You are here
Top 100 DJanes Brasil Online Festival: DJane Mag Brasil announces its First-Ever Virtual Festival
The series of the Top 100 DJanes Brasil Online Festival 2020, which will take place on all weekends from November 7 to December 6, will be broadcast on the global channels of YouTube, Facebook and Twitch of DJane Mag Brasil
With a series of sets broadcast in a marathon with more than 30 artists, the event will still have a charity character.
The poll in the largest poll of women DJs in Brazil, DJane Mag Top 100 DJanes Brazil, takes place every year from March to December. As events and festivals across the planet are closed due to the coronavirus pandemic, DJs and electronic music performances are all online. To reflect this change, we are pleased to announce a series of weekly virtual sets of various DJanes to give our potential audience the opportunity to honor their favorite DJs and artists in a whole new way.
The confirmed DJs include some that are already part of the ranking of the top 100 in Brazil as Cherrys, Cris Proença, Daphne, Ekanta Jake, Eve, Fernanda Pistelli, Juliana Hauz, Lari Hi, Laura Keller, Lily Kirk, Mary Mesk, May Seven, Monic (BR), Luane (London), Raffa Boeno, Steph and more. And we will still have rising names and great promises for 2021 like Ana Jones, Bellatriz, Edi Zerg, FABZ, GABJ, From House To Disco, Kerol Garcia (London), Kitty, Lara Music, Nathia Kate (Mexico), Pri Oliveira, Rosa Ventura, Kling (London), Thaís Andrade and more. Full weekly line-ups will be announced soon.
Phase 1 Lineup: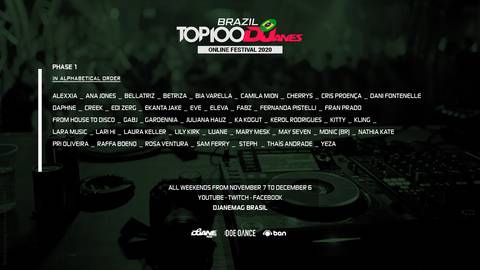 The Top 100 DJanes  Brasil Online Festival 2020 will have a charitable character in partnership with the :DOE :DANCE. All income collected during the broadcasts will be allocated to the treatment of children and the elderly, assisted by the "ONG Luz Dourada"and "Abrigo ViraLata Feliz", which takes care of morethan 180 animals through Mrs. Agda. If you can HELP,  consider donating here.
Service
Top 100 DJanes  Brasil Online Festival 2020
When: all weekends from November 7 to December 6, from 17:00 (BRT) – 20:00 (GMT).
Where: exclusive simultaneous streaming through DJane MagBrasil's  YouTube, Facebook   and Twitch  channels.
Support
DJ BAN | :DOE :DANCE | DJANEMAG