You are here
Sophia Dalá Voguét's DJ set is featured at the closing of DJane Mag's online festival
Taking the glamor of the turntable to a scenario very linked to dreams, DJ and producer Sophia Dalá Voguét produced an elegant presentation at SETE's hangar, at Goiânia Airport. The DJ set will air this Sunday, December 5, at 18:00 (BRT) 21:00 (GMT) on YouTube of  DJane Mag.
Aiming to express the freedom of being able to travel in all directions, the artist believes that "music, regardless of the phases of life we ​​are going through, transports us to the future, to the present and to the past. So music is a unique journey!"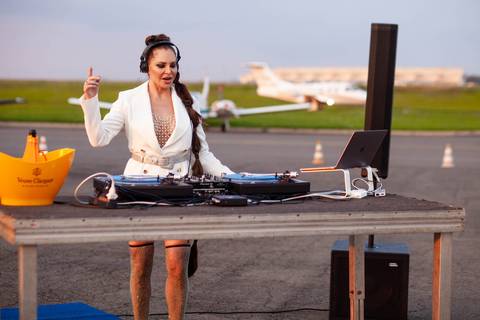 Therefore, believing that music and travel are connected, she decided to take the record player, where she learned to play, to the airport in Goiânia, to explore a refined set of Melodic House, expressing the sound that has been working since her recent tour in the United States.
Sophia's unmistakable performance can be seen during the Top 100 DJanes online festival. Celebrating the female strength in electronic music, at the invitation of DJane Mag, this Sunday (5), at 18:00 (BRT) 21:00 (GMT), the set will be broadcast on YouTube, Facebook and Twitch channels.
Service
Live "Sophia Dalá Voguét"
When: December 5th, Sunday.
Time: 18:00 (BRT) 21:00 (GMT).
Where: Exclusive simultaneous transmission through DJane Mag's YouTube, Facebook and Twitch channels.
Support