You are here
Nervo announces new collab with Alok
Nervo in Brazil: collab with Alok announced and Rock in Rio
Twins played in two performances across the country.
The twins of the duo NERVO have just passed through Brazil with a tour that featured two performances, one in Sao Paulo and another in Rio de Janeiro. During their stay in the country they revealed their love for the Brazilian public, shared the stage with national artists and announced that they will soon release a song with Alok.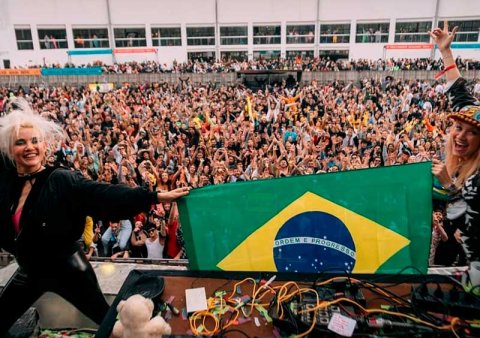 Owners of the hit "Best Friend", the coming of the duo began in Sao Paulo on the 27th with a presentation at the Sleepover party. Organized by the Toy Group, the event featured 18,000 people and a euphoric presentation. "We love Brazil. Brazil has always had a very warm space in our hearts. We've toured here, I'd say 5 or 6 years, maybe more… Playing a party with thousands of students at seven in the morning is the kind of thing we only experience here, "says Miriam Nervo.
In love with Brazilian artists such as Pabllo Vittar and Felguk, the duo closed Rock in Rio's New Order Dance stage on the 28th with the participation of the Make U Sweat trio, producers who later remixed the sisters' "Sober" track. Still exploring national talents, Mim and Liv announced here that next year they will launch a collaboration with their friend Alok and that the track will have a hint of Irish.