You are here
LORENA debuts in the electronic scene with "Escobar" via Mustache Crew Records
"Escobar" marks LORENA's debut on the Brazilian electronic scene via Mustache Crew Records. The DJ and producer from São Paulo, in addition to breathing music since childhood due to the influence of her family, is also known for her dance performances in presentations by names such as Vintage Culture, Illusionize, Chemical Surf, Cat Dealers, Amine Edge and Dance, Bhaskar, Gustavo Mota, Groove Delight, Liu, Gabriel Boni, Breaking Beattz, and more. 
About "Escobar"
Aimed at Tech House and Melodic Techno, Lorena Fabbrini's first production, or "my baby", as she defines it, brings excerpts from the Narcos series and the idea is to convey determination. "Pablo, despite using his intelligence for illegal things, was always very determined and what he wanted, he got", he adds.
When asked how it was to produce  "Escobar",  the producer says that she started with the drums with 126 BPM in the Tech house's footprint, then with the bass that has two different basses, the base and the drop. "I didn't use any external plugin, I just made it with Ableton's basic resources, I chose the vocal with its base practically ready, and after that I started adding the fxs and giving my final touches", he describes.
LORENA – The new promise of the electronic scene
His career as a DJ started in January 2019 and was unfortunately interrupted by the pandemic. Taking advantage of the isolation, Lorena studied and increasingly developed her musical production and, in addition to releasing  "Escobar", already promises five more tracks to come.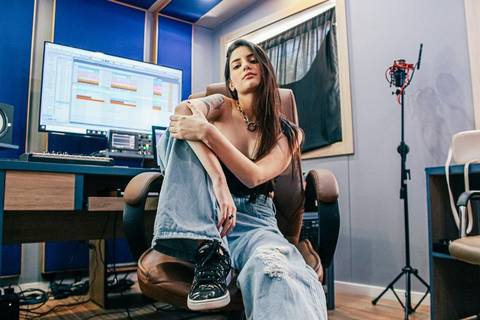 Check out LORENA's debut  and listen below to "Escobar" via Mustache Crew Records.
FOLLOW LORENA:
YouTube | Facebook | Instagram | Soundcloud