You are here
DJ EKANTA INTERVIEW FOR THE DJANEMAG PORTAL BRASIL || NOW IN ENGLISH!
Ekanta is part of the Universo Paralello family, which revolutionized the scene of electronic music as we see it today. Her first experience as a DJ came in 1998, playing Ambient at Club Trance Budha in Amsterdam, The Netherlands, where she worked on different positions, since it was open. In August of the same year and in search of continuing to live her passion, she returned to Brazil with the firm idea of ​​bringing everything to 'this side of the world' It wasn't long before until her group of friends and family joined forces to kick off what is now one of the richest scenes on the world stage. Ekanta has also performed at various festivals abroad: Boom Festival, Voov, Dance Valley, Mount Mapu, Moon Flower, Tundra, Solstice, Full Moon, 24/7. In 2004 she returned to the Netherlands to take a musical production course by SAE. She also studied audio in the School of Music of Brasilia, and taught between 2008 and 2011, mixing courses and DJ. Ekanta produced several tracks with her sons Alok and Bhaskar a.k.a.Logica, while still making Psytrance.
DJANEMAG Brazil: Let's start where you are from? Tell us about your origin, your hometown, how was your childhood? Do you remember the moment you decided to be a DJ?
Ekanta: I was born in Goiânia / GO and in my childhood I took ballet classes, I wanted to be a dancer. As a teenager I studied theater and always wanted to be an artist. At the age of 18 I had
my first experience playing with vinyl at a Mephisto night club, also in Goiânia. I decided to be a DJ when I lived in Amsterdam and I fell in love with Psytrance, and also with a DJ (laughs).
DJANEMAG Brazil: You were one of the people responsible for bringing the genre Psytrance to Brazil. Tell us a little more about this story.
Ekanta: It was time to go back to Brazil after living in Holland for years, but I thought, "How am I going to live without the parties, without the music"? We'll have to take this to Brazil! Make it happen there too! At first it was very difficult, people still did not know the musical genre and not everyone liked it! I traveled many hours by bus to play, taking my turntable along with me. And with a lot of determination, we were gaining our space.
DJANEMAG Brazil: What were your biggest influences?
Ekanta: When I started playing I heard a lot of "Total Eclipse, GMS, Eat Static, Space Tribe".
DJANEMAG Brazil: Do you have any special idols?
Ekanta: I have several! And not just electronic music.
DJANEMAG Brazil: You are part of the select team of Vagalume Records, which is one of the record companies that best represents the Brazilian Psytrance. How important is a label in a
DJ's professional life?
Ekanta: Representing a label is like an artist's identity, a surname, the type of music he or she plays, the tracks released by the label, bookings, all the support gives a credibility. It's an important career gain.
DJANEMAG Brazil: Tell us a little about the history of the "Universo Paralello" and what inspired you guys to create a festival focused on trance culture in Brazil?
Ekanta: The festival is not only focused on trance culture, it's multicultural! We wanted to bring friends together with music, fashion, art, performance, yoga, meditation, family, all together and
mixed in a New Year celebration. In the first edition of 2001/2002 300 people were present.
DJANEMAG Brazil: Many people do not know that you are the most famous mother of the Brazilian electronic scene (laughs)! Tell us what makes you proud in your children's work, Alok and Bhaskar?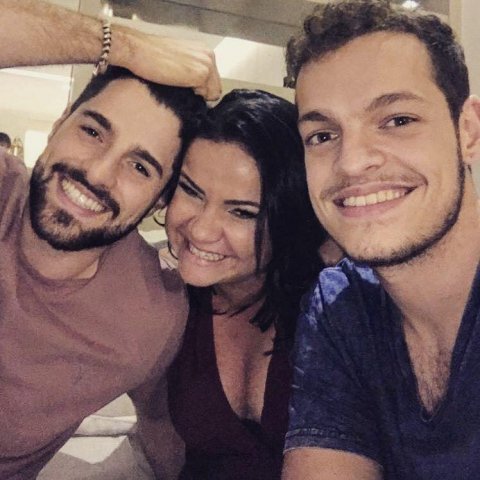 Ekanta: The word is not pride, it's admiration! I admire them as talented, creative, innovative and very responsible professionals. I admire that they have become so special, human beings with a lot of awareness and love in their hearts.
DJANEMAG Brazil: How is the routine of being part of a family in which almost all are DJs? Is it very different from a traditional family?
Ekanta: There is no routine, our coexistence is very dynamic. Sometimes we meet at events, sometimes we travel together, from time to time we have to schedule ourselves to see each other, but we also happened to meet at the airport by coincidence (laughs). The cool thing is that we have many things in common and this unites us more and more, even with all the distance and everyday's rush.
DJANEMAG Brazil: What was the most special moment you had in your career as a DJ and producer?
Ekanta: Very difficult to say, because it's been more than 20 years (laughs)!
DJANEMAG Brazil: How do you build your sets?
Ekanta: Thinking where I'm going to play, time, who plays before and after me. Also by the musical scale paying attention in the notes of the songs, harmony and in the story that I want to tell. But sometimes when I arrive, I change everything depending on how the track is and the moment too. The DJ has that power, right?
DJANEMAG Brazil: What are your main challenges as a DJ today?
Ekanta: I have been on the road for 20 years and traveling is very tiring, so I have been more selective about the events that I will perform. I'm currently trying to make just one gig per week. When I'm performing, I always try to do my best and bring out the best of the people on the dancing floor, making them feel good during my set. And this has always been my biggest goal and to make it happen, I have to be in a good mood and not tired, right?
DJANEMAG Brazil: Any news coming soon?
Ekanta: I'm doing a remix of an Alok & Iro track, "Love is a Temple" in the Psytrance version!
DJANEMAG Brazil: Men dominate the world of DJs. Do you agree with this statement? Was it difficult to achieve success? What can you advise for beginning female DJs who are just starting
their way in this profession?
Ekanta: It's difficult in many professions. Even the money paid to the girls DJs is less, unfortunately. Keep going strong, girls! What matter is the good music and not the DJ's gender.
DJANEMAG Brazil: To conclude, let's go with that famous question no less important: What is your message for the new generation of Trance in Brazil?
Ekanta: To preserve the true spirit of Psytrance!
Photo credit by "Filipe Miranda"
Enjoy music and VOTE for DJ Ekanta at top100djanes.com!