You are here
Cacá Werneck launches 'MUSIC UNITES PEOPLE', her new special long set
Cacá Werneck launches exclusively, 'MUSIC UNITES PEOPLE', her new 'Long Set' so that her fans can enjoy her sound during this quarantine period on behalf of Covid-19. Cacá talked about  all the details of the construction of this project that promises to show a new style different  from what she has been playing in the last months, but with all its contagious energy. The audience will have the opportunity to listen to great hits interpreted by the DJ herself, such as "Liberdade" (Akádah & Cacá Werneck) and the current "Que Vibe é Essa? (VMC and Cacá Werneck), thus, the big hit "You Can Have My Heart" (VMC Remix) by Israeli DJ Aron and his main performer, Beth Sacks. Cacá says "... Beth has been very important to me, she has given me a lot of support, I have talked a lot with her, and with Aron too".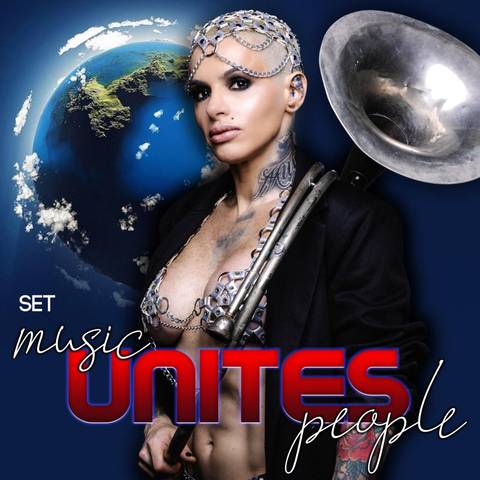 Art by @ivant_design
MUSIC UNITES PEOPLE was the name chosen for this project, which besides its own productions and collaborations, Cacá says  she did a great research of new songs that escaped a little from what the public used to listen to in the last months,yet, keeping the energy that everyone likes, and mainly, in this moment of great tension, could not change. "Music has the power to heal, to cheer, and for those who are already depressed at home at this moment, because it's indeed a very difficult moment to deal with specially for those who are already pre-disposed to sadness and depression," and she goes on saying that "... in this moment of quarantine, we have to get used to staying at home, but not with sadness, just watching the news, but being able to distract us with the power of music," says Cacá Werneck.
The Carioca DJ tells us that the initial idea would be to make a set in celebration of her first year as a resident of The Week Brazil, but the moment calls for more attention and care to her audience, so she decided to set up a studio at home, and do a special research, of songs that are usually not played on the track, and that will make the energies of sadness and worries, turn into a real positive vibe. "MUSIC UNITES PEOPLE is a tribute to the world, to our country, and to the people who are here in Brazil and around the world, who send me messages of affection, and ask for a set so as to enjoy at home ... this is the rewarding part of my work," says the DJ, and she goes on saying that "it ended up becoming a Long Set,  putting the songs that will bring joy and love into the homes, where everyone is in quarantine, and where everyone can keep themselves safe until all this crisis passes and we can all hug and shake hands again...", this is what we Brazilians love to do!
To sum up, she wishes "that everyone respects the moment to take care of themselves, think about their neighbors, have solidarity, generosity, humility and awareness", and she adds "this set was a way that I created so that people who are at home can take it in a lighter way, in the midst of so many bad news, more joy and distraction, overcoming this phase", it's also important that music can help the ones who need  joy not to give in to depression and sadness.
Listen now.